Buy Used Ford Hatchback Models
2019 Ford Fiesta ST Hatchback
2019 Ford Fiesta ST Hatchback
2019 Ford Fiesta ST Hatchback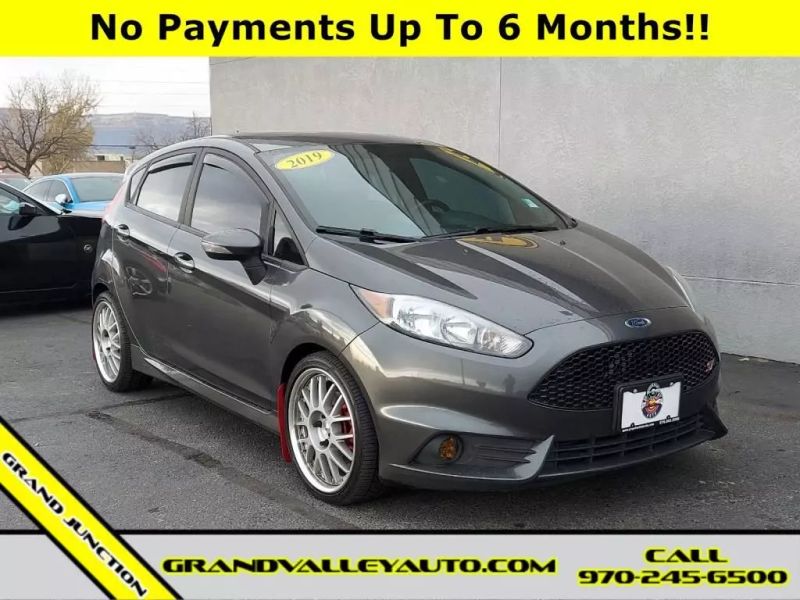 2019 Ford Fiesta ST Hatchback
Nothing says affordable driving fun like a Ford hatchback, that's the way it's always been, and cars like the Fiesta and Focus ensure that the legacy continues to this day. Traditionally, these vehicles have been available in a few configurations, including both hatchback and sedan guises, but they have almost exclusively always been compact or subcompact in size. Whether buying new or used, these models have always been the best way of getting enjoyable performance at a low cost.
Recent Ford Hatchback Vehicles
The Blue Oval brand might have now discontinued all hatchbacks as it pursues crossovers instead, but in recent years it produced some of the best hatches around. The list of models might be short, but in the USA they all proved relatively popular:
Fiesta: This was the smallest hatch offered by the brand, classified as a subcompact with a tight interior and nimble handling dynamics. Many trims were available and engines varied from three- to four cylinders in configuration, with the sportiest ST putting out 197 horsepower from a 1.6-liter turbocharged engine. Because of Ford's small size, there was no limit to where or how much joy could be had with the subcompact.
Focus: Taking on the role of a larger hatchback, and residing in the compact segment, it had a higher price, but also more features and more comfort. It also had a variety of trims, and unlike is little brother, it had an RS model for maximum performance and an electric version, too. Powered by a 2.3-liter turbocharged EcoBoost engine, it had 350 hp, all-wheel-drive, and came in a ton of cool colors including Nitrous Blue that made the RS look fast even in static pictures.
C-Max Hybrid: Discontinued in 2018, this was a subcompact based on the Fiesta to rival the Toyota Prius V. It had 188 hp and in PHEV form, had a 20-mile electric range. It wasn't the most entertaining to drive, but at gas mileage estimates of 42 miles per gallon in the city, it was inexpensive to run.
Specifications and Pricing of Ford Hatchbacks
Ford no longer sells hatchbacks in the US, but you can still find them on the second-hand market. Pricing and specifications below are for each model in its final year of production:
| Model | Power | Engine | Base Price |
| --- | --- | --- | --- |
| Ford C-Max Hybrid | 188 hp | 2.0L Inline-4 Hybrid | $24,120 |
| Ford Fiesta Hatchback | 120 hp | 1.6L Inline-4 Gas | $15,790 |
| Ford Focus Electric | 143 hp | Electric | $29,120 |
| Ford C-Max Energi | 188 hp | 2.0L Inline-4 Plug-in Hybrid | $27,120 |
| Ford Fiesta ST | 197 hp | 1.6L Turbo Inline-4 Gas | $21,340 |
| Ford Focus Hatchback | 160 hp | 2.0L Inline-4 Gas | $20,540 |
| Ford Focus ST | 252 hp | 2.0L Turbo Inline-4 Gas | $25,170 |
| Ford Focus RS | 350 hp | 2.3L Turbo Inline-4 Gas | $41,120 |
What Are The Advantages Of Ford Hatchbacks?
If you're contemplating purchasing a hatchback with a Blue Oval badge on it, you'll be looking at the second-hand market. However, you can be rest assured that there are many benefits to investing in one:
Enjoyable driving dynamics
Impressive MPG figures
Low purchase price
Easy maintenance
You can see more advantages of Ford hatchbacks by watching our video reviews.
FAQs About Ford Hatchbacks
Which is the most practical hatchback from Ford?
Size matters, and don't let anyone tell you it doesn't. But in this case, it's actually the subcompact C-Max that's most practical, boasting 25 cubic feet behind the rear seats and 42.8 cubic feet with these seats folded.
Which hatch should I choose for driving enjoyment?
Hands-down, the most fun you can have behind the wheel of a FWD hatch is in a Fiesta ST. unlike the Focus RS, it didn't have massive amounts of power, but it was small, nimble, and had a lively chassis that was an absolute giggle factory!
Which Ford hatchback is the most economical?
It's a bit of a loaded question as Ford has made use of a number of fuels for its various cars over the years. The Focus Electric, for example, had an MPGe figure of 107 with a 115-mile range, while the C-Max Hybrid consumed 40 mpg combined and could travel up to 540 miles on a tank of gas, making it the best compromise overall and the one best able to conjure images of easy family road trips.
Where are these Fords made?
Production of compact and subcompact hatches has been spread all over the world, but in America, the Focus was produced at the company's plant in Wayne, Michigan.