Buy Used Mercedes-Benz Models
2024 Mercedes-AMG GLE 63 SUV
2024 Mercedes-AMG EQE 4MATIC+
2024 Mercedes-AMG EQE 4MATIC+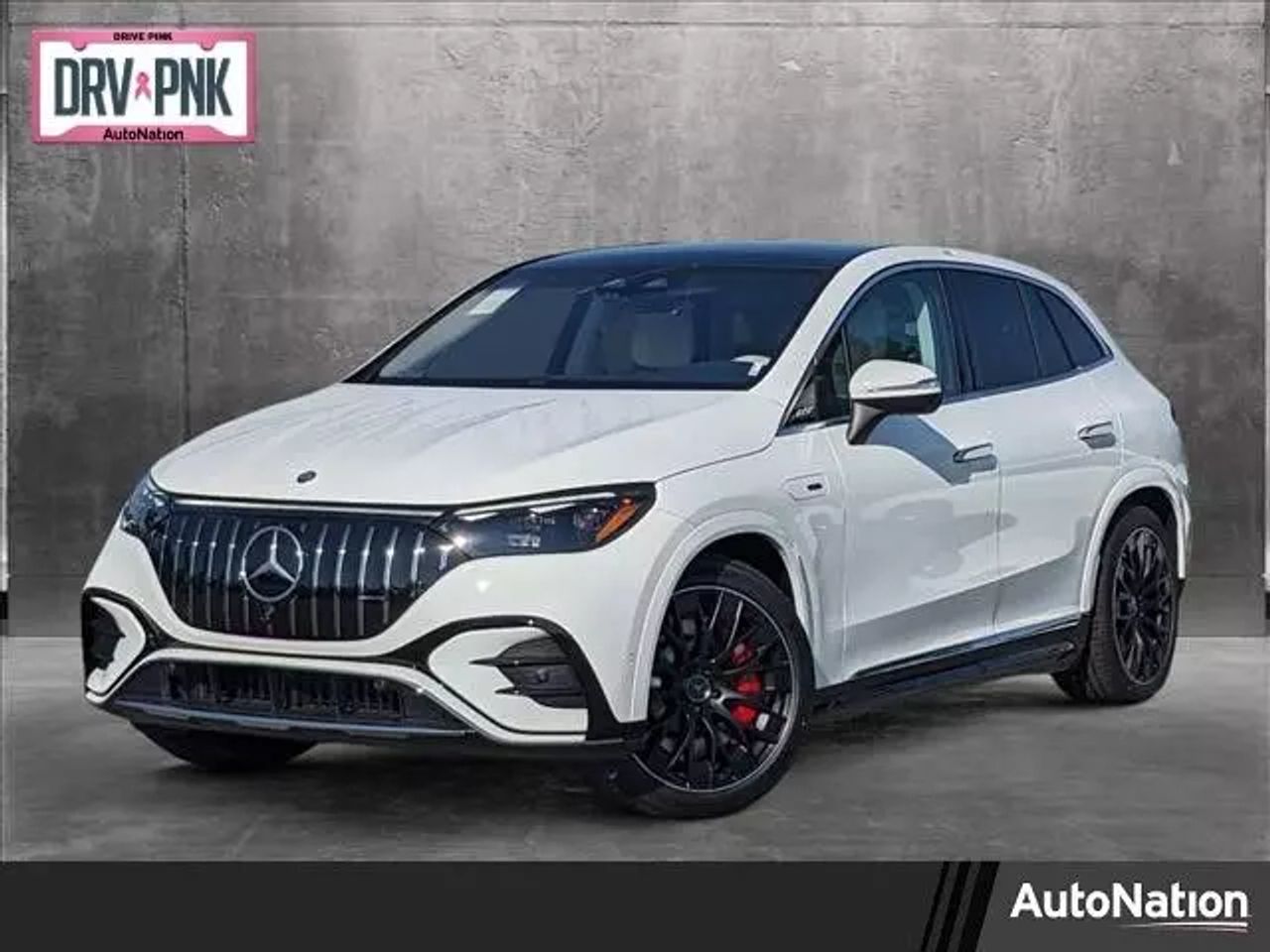 2024 Mercedes-AMG EQE SUV 4MATIC+
The lineup of Mercedes electric car models continues to grow as the German automaker moves toward a more electric future. Mercedes-EQ is the naming structure for all the battery electric vehicles produced by the automaker, and while it stands almost as a subdivision of the brand at present, Mercedes-Benz notes that once all Mercedes cars are electrified, the nomenclature will eventually fall away. These premium products are getting increasingly popular in the USA, and for good reason - they retain all the luxury, high-end quality, and pristine interiors of a regular Mercedes-Benz, but with an all-electric powertrain.
List of Mercedes EV Models and Prices
This is a list of the Mercedes electric cars and prices in the US:
| Model | Power | Engine | Base Price |
| --- | --- | --- | --- |
| Mercedes-Benz EQB SUV | TBC | Electric | $52,750 |
| Mercedes-AMG EQE | 617 hp | Electric | $106,900 |
| Mercedes-Benz EQG | 469 hp | Electric | TBC |
| Mercedes-AMG EQS | 649 hp | Electric | $147,550 |
| Mercedes-Benz eSprinter Cargo Van | 134 hp | Electric | $71,886 |
| Mercedes-Benz B-Class | 177 hp | Electric | $39,900 |
| Mercedes-AMG EQE SUV | 617 hp | Electric | $109,300 |
| Mercedes-Benz EQE Sedan | 288 hp | Electric | $74,900 |
| Mercedes-Benz EQE SUV | 288 hp | Electric | $77,900 |
| Mercedes-Benz EQS Sedan | 329 hp | Electric | $104,400 |
What to Consider When Buying a New Mercedes Electric Car
There are more fully electric cars on the market than ever before, and that number is only going to grow. However, Mercedes EV models are not like the run-of-the-mill competition, so consider these qualities when picking a Merc over something else.
Pros
Amazing looks, inside and out
Powerful electric motor setups
Strong brand reputation for quality
Competitive all-electric driving range
Wide range of current and upcoming models
Cons
Cars in this class do not come cheap
Repairs and maintenance are costly, too
It takes some time to recharge without a Level 2 charger
FAQs
What is the best Mercedes electric vehicle?
You definitely are strapped for choice with even more models on the way, and there are several classifications to consider. Unsurprisingly, it is the AMG version of the electric S-class sedan that comes out on top, though the price tag is painfully high.
What is the price of a new Mercedes electric car?
People who buy Mercedes cars know that they don't come cheap, but the EV variants cost even more than you'd expect. Luckily, a lot of this is recouped over time as you no longer need to purchase tankers of premium fuel weekly. The cheapest model is the EQB SUV, starting just north of $50,000, while the AMG EQS will set you back $150k, or so.
How long does it take to charge a Merc EV?
Every model comes with a different size battery, and it also depends on the type of charger you use. A small battery, like the 70.7-kWh unit in the EQB, takes around eight hours to charge on a Level 2 home station, or 32 minutes with a DC fast charger. The 108.4-kWh battery in the flagship EQS SUV takes 13 hours on a 240V outlet, or 31 minutes to hit 80% on a fast charger.
Are Mercedes EVs safe?
It's hard to find any models from the German automaker with an official safety rating. However, the brand still has an excellent reputation in this area, and all of its cars come with an extensive array of advanced safety and driver-assistance features that would put anyone's mind at ease as they drive around town silently.
Does Mercedes have plans to make any new electric vehicles in the future?
We know of several upcoming models, like the Maybach version of the EQS SUV and EGQ off-roader. There are also plans to make small and misize SUVs to round out there current offering, but there will no doubt be even more electric Mercs in the future.