Buy Used Ram Truck Models
2023 Ram 1500 TRX
2023 Ram 1500 TRX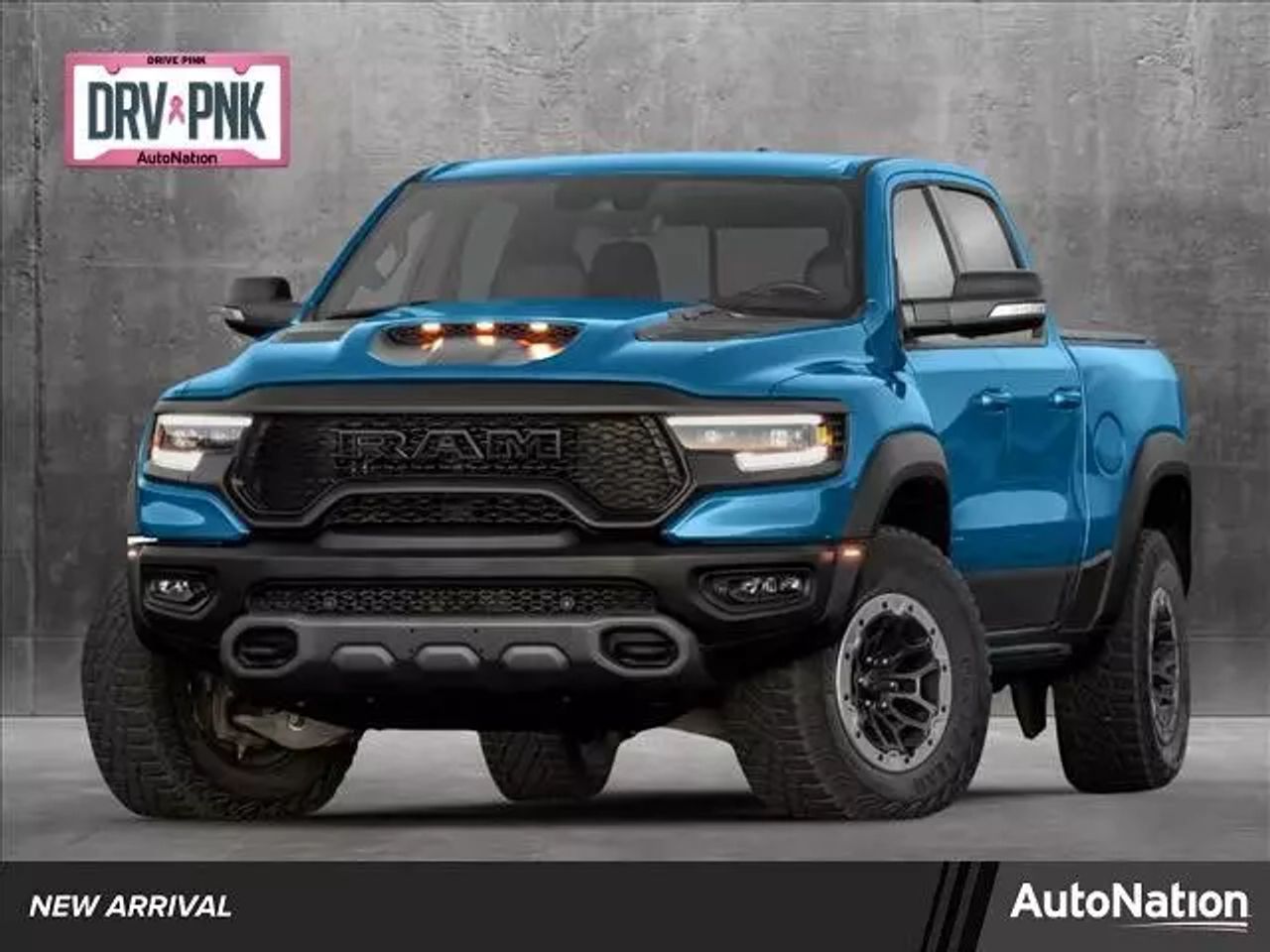 2023 Ram 1500 TRX
2023 Ram 1500 TRX
Trucks are extremely popular in the USA, and anyone that's driven a RAM truck would agree that they're some of the best out there. They're large and in charge - bearing aggressive and imposing exterior aesthetics and the capabilities to back their looks. New RAM trucks are known for their all-rounder performance qualities, good dependability, and contemporary, featureful interior spaces.
List of RAM Pickup Truck Models and Prices
This is a list of the Ram pickup truck models and prices in the US:
| Model | Power | Engine | Base Price |
| --- | --- | --- | --- |
| Ram 1500 | 305 hp | 3.6L V6 Gas | $37,410 |
| Ram 2500 | 410 hp | 6.4L V8 Gas | $44,675 |
| Ram 3500 | 410 hp | 6.4L V8 Gas | $46,780 |
| Ram Dakota | 210 hp | 3.7L V6 Gas | $23,210 |
| Ram 1500 Classic | 305 hp | 3.6L V6 Gas | $30,235 |
| Ram 1500 REV | 700 hp | Electric | TBC |
| Ram 1500 TRX | 702 hp | 6.2L Supercharged V8 Gas | $83,790 |
What to Consider Before Buying a New RAM Pickup
An automaker has to do things just right in order to be successful when presenting American shoppers with a rugged pickup. Luckily, Ram trucks are developed specifically with the local market in mind, yet they also bring something to the table that not many other manufacturers do.
Pros
Powerful and polished engines
Remarkably capable but also practical
Spacious and comfortable cabins
Surprisingly pleasant and refined ride quality
High-tech and modern tech
Cons
High-end driver assists and safety features are expensive
Dubious long-term reliability expectations
Terrible mpg returns
FAQ about Ram Pickups
What is the best Ram pickup truck?
This will depend largely on what you are looking for. In terms of on-road comfort, the 1500 tops the range, but if you want to go off-road, then the 1500 TRX is the way to go, with its lifted ground clearance, standard 4x4 drivetrain, and extreme performance specs.
How much do new Ram trucks cost?
There are various types of Ram trucks, and the price varies across the lineup. The 1500 Classic is quite barebones compared to other trims, but this is intentional as it keeps the cost down to around $30,000. Meanwhile, the 1500 TRX, with all its insane 702-horsepower engine and bold styling, asks for north of $80k.
Are Ram pickup trucks reliable?
While pickup trucks, especially heavy-duty ones, are considered to be amongst the most reliable cars in the world, Ram models actually have quite low reliability ratings in the segment. However, they make good daily vehicles, especially when equipped with a 4-door cabin.
Which Ram pickup truck can tow the most?
When equipped with the 6.7-liter Cummins turbo-diesel engine, which develops 420 hp and 1,075 lb-ft of torque, the 3500 pickup boasts a towing capacity of 37,090 lbs in goose-neck configuration.
Are there any new Ram pickup models?
As the automotive industry has begun wide-scale adoption of electric vehicles, Ram has announced that it will release a 1500 REV in 2024. Moving forward, the automaker's latest models will likely include an electric option if they aren't pure EVs from the start.