Buy Used Subaru SUV Models
2024 Subaru Crosstrek Premium
2024 Subaru Crosstrek Premium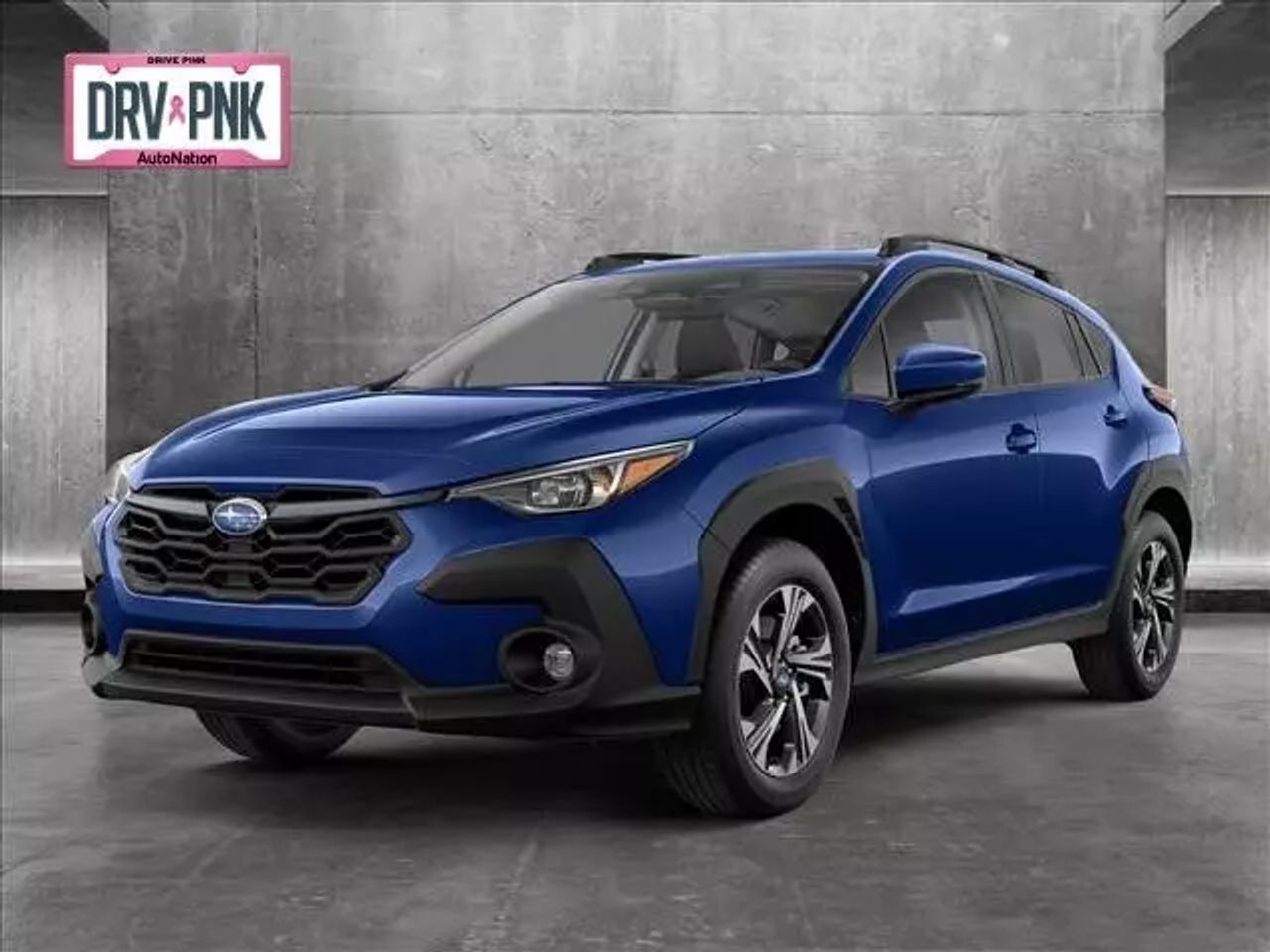 2024 Subaru Crosstrek Premium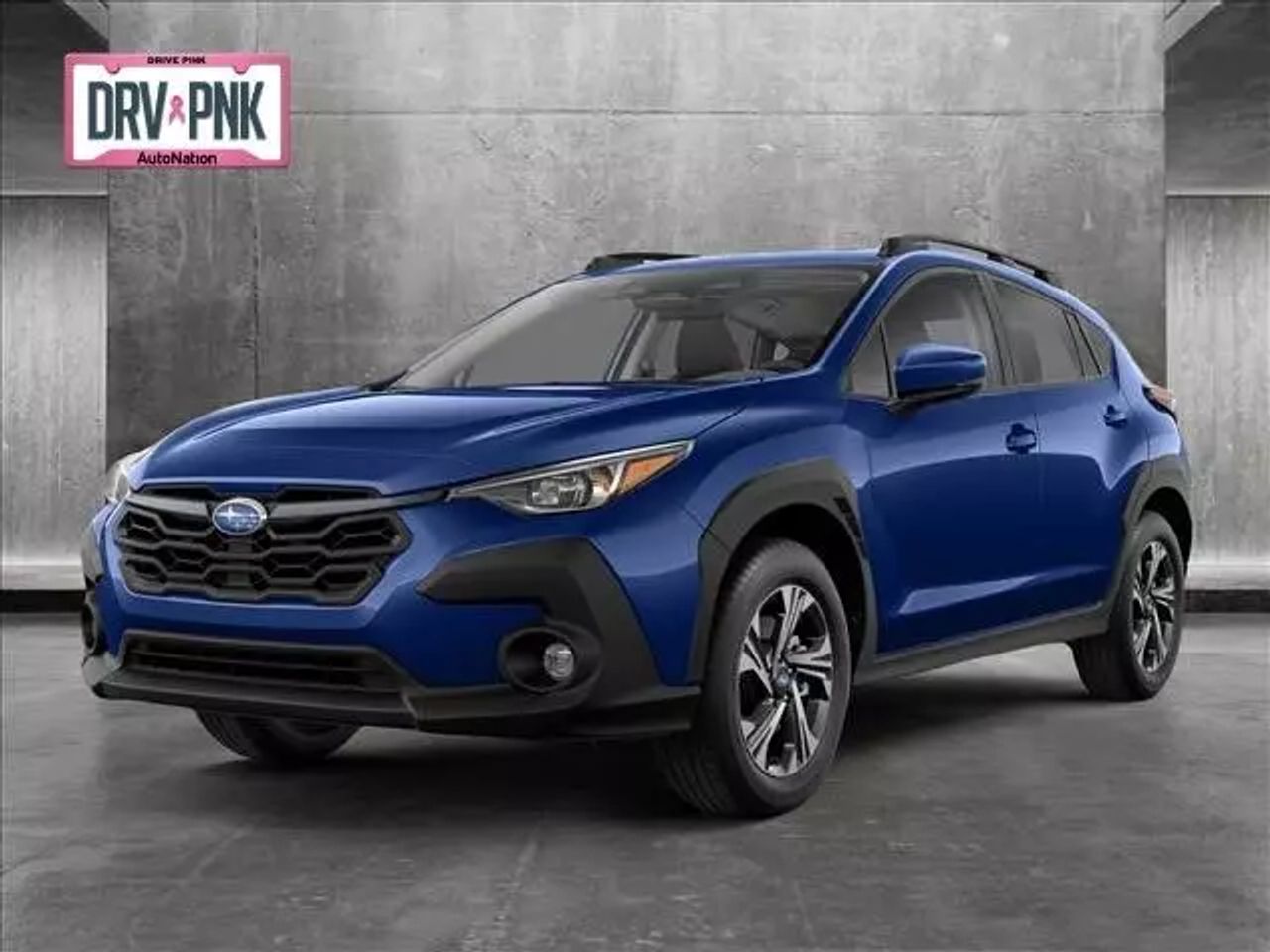 2024 Subaru Crosstrek Premium
A Subaru SUV is perfect for the urbanite that longs for adventure and the outdoors. As some of the most versatile and well-rounded commuters, just about every Subaru SUV in the lineup delivers a suitable everyday driving experience, surprisingly capable trailblazing capability, decent levels of practicality, and some of the best crashworthiness ratings in the classification.
List of Subaru SUV and Crossover Models and Prices
This is a list of the Subaru SUV and crossover models and prices in the USA:
| Model | Power | Engine | Base Price |
| --- | --- | --- | --- |
| Subaru Ascent | 260 hp | 2.4L Turbo Flat 4 Gas | $33,895 |
| Subaru Crosstrek | 152 hp | 2.0L Flat 4 Gas | $24,995 |
| Subaru Forester | 182 hp | 2.5L Flat 4 Gas | $26,495 |
| Subaru Solterra | 215 hp | Electric | $44,995 |
| Subaru Tribeca | 256 hp | 3.6L Flat 6 Gas | $34,095 |
| Subaru XV Crosstrek | 148 hp | 2.0L Flat 4 Gas | $21,595 |
| Subaru Crosstrek Hybrid | 148 hp | 2.0L Flat 4 Plug-in Hybrid | $36,845 |
| Subaru XV Crosstrek Hybrid | 160 hp | 2.0L Flat 4 Hybrid | $25,995 |
What To Consider Before Buying a New Subaru SUV
SUVs and crossovers are extremely popular in the US, and those with competent all-wheel drive and high reliability standards are even more so. Subaru models boast these qualities as well as several more that help them stay ahead of the competition in many ways.
Pros
Refined on-road poise and compliance
Genuinely competitive off-road aptitude
All-wheel drive is standard on every model
Consummate safety and crashworthiness ratings
Stylish, ergonomic, and commodious interiors
Cons
Sedate and mundane driving characteristics
There are no full-size models
3rd-row seats are usually confined
Uncompetitively low towing capacity
FAQs
What is the best Subaru SUV?
The Forester may have some failings, but in the grand scheme of things, it has a lot to offer. It is spacious and comfortable on the rod, and it can venture off the beaten path without a care in the world. All this would be enough for any CUV to be considered exceptional, but it also boasts an impressive tech offering.
What is the price of a new Subaru SUV?
Almost every crossover and SUV in the lineup is extremely affordable. The Crosstrek is a small model with a proportionate price tag of just $24k or thereabouts. Meanwhile, the Solterra isn't much bigger, but it will cost you a lot more - as much as $52k, depending on the trim you choose.
Do Subaru cars offer good mileage?
While not the most economical in the segment, most Subaru cars offer relatively good mpg. The standard AWD does weigh them down a little, but now that the automaker is starting to make electric SUVs.
Does every Subaru SUV have all-wheel drive?
While some may prefer 4-wheel drive when venturing off-road, it isn't always needed. Instead, Subaru equips all its cars with an extremely competent all-wheel drive system that helps the handle almost any terrain.
Are there a Subaru cars with third-row seating?
Most automakers offer SUVs of various types and sizes, but Subaru doesn't have a full-size model. That being said, it does squeeze an extra row of seats into the Ascent. Depending on whether you opt for captain's chairs, it allows for both 7- and 8-seater configurations.