Buy Used Tesla SUV Models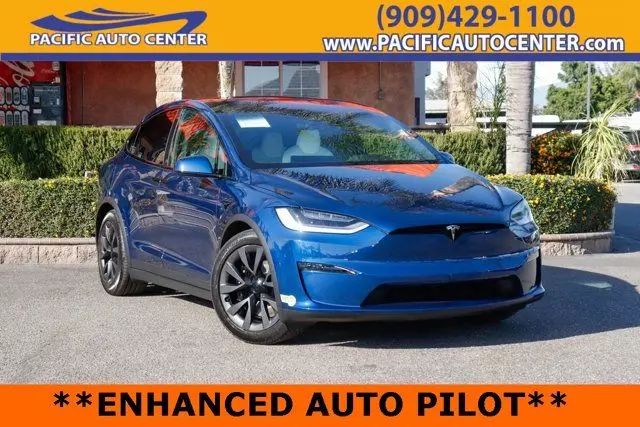 2023 Tesla Model X Standard Range
2023 Tesla Model X
2023 Tesla Model X
2023 Tesla Model X Plaid
As the alternative-fuel market gains dominance over the long-established gasoline market in the USA, more and more automakers have begun bolstering their latest ranges with additional EVs and hybridized vehicles. Every sports car, coupe, sedan, crossover, and Tesla SUV, on the other hand, has always rolled straight off the factory floor fully electric, upholding the brand's unrelenting pursuit of the electrification of the automotive industry.
List of New Tesla SUV Models and Prices
This is a list of the Tesla SUV and crossover models currently for sale in the US:
| Model | Power | Engine | Base Price |
| --- | --- | --- | --- |
| Tesla Model X | 670 hp | Electric | $79,990 |
| Tesla Model Y | 425 hp | Electric | $43,990 |
| Tesla Model X Performance | TBC | Electric | $99,990 |
| Tesla Model X Plaid | 1,020 hp | Electric | $94,990 |
What to Consider When Buying a Tesla Crossover or SUV
No longer the undisputed king of EVs, Tesla now has to put in some genuine effort to stay ahead of its various competitors. After all, just about every automaker in the industry is now expanding its lineup to include EVs, including those in the most popular body style. So, what does a Tesla electric SUV offer that makes it better or worse than any of the upstart EV high-riders?
Pros
Rocket-like, yet well-ordered acceleration
Poised and balanced handling dynamics
Industry-leading single-charge driving distances
Futuristic exteriors and minimalist interiors
Extensive supercharger network in the US
Cons
Questionable build quality and reliability ratings
Less trunk space than many rivals
Large touchscreen can be difficult to use
Not as luxurious as conventional SUVs
FAQs
What are the best Tesla SUVs?
If you just need an advanced and comfortable family hauler, then the Model Y should suffice. It has an impressive driving range and can even be outfitted with a third row to make it a 7-seater. The Model X doesn't offer a 3rd row but it has better performance specs and can even be upgraded to the Model X Plaid, which has an impressive 0-60 time of 2.5 seconds.
What is the price of a new Tesla SUV?
Generally speaking, the cost of a Tesla SUV is higher than similarly practical models. The Model Y is the cheapest and is available only as a 7-seater. It will cost you a little more than $50,000. If you want more performance but don't mind settling for a 5-seater, the Model X starts at a little under $100,000. The Plaid version of this speedy SUV will cost you around $140k.
Which Tesla crossover can tow the most?
With its 670-horsepower electric motor setup, the Model X boasts a towing capacity of around 5,000 lbs. With only 450 hp to draw on, the Model Y can only manage to tow 3,500 lbs. Luckily, every model comes with AWD, which gives them impressive handling even when pulling a trailer.
Are Tesla SUVs safe?
Both the Model X and Y receive impressive safety ratings from the NHTSA and IIHS, largely due to their impressive list of advanced driver-assistance features, including semi-autonomous driving.