Buy Used Toyota Coupe Models
2023 Toyota Supra 3.0
2023 Toyota Supra 2.0
2023 Toyota Supra 3.0 Special Edition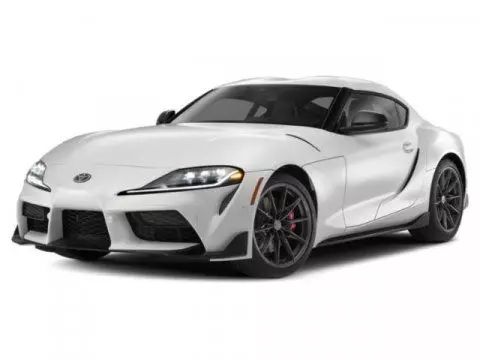 2023 Toyota Supra 3.0
Toyota's coupes are the brand's most performance-focused vehicles and the most attractive of all its models, too. They're voracious sports cars, blisteringly fast to accelerate off-the-line and highly capable around corners. They're super stylish, too, and as contemporary as any modern-day luxury cruiser. Though the list of Toyota coupes is short, with only two models within the US range, both are considered exceptional sports cars and are well worth considering. But, before heading off to the dealership, be sure to check out CarBuzz's reviews and ratings to get an idea of the best two-door cruiser your money can buy.
Common Specifications for 2-Door Toyota Coupes
Characteristics that are key to this type of automobile include:
Performance: Outright acceleration and corner roasting antics is the name of the game with Toyota's coupe cars. It's all about the driver and his/her experience behind the wheel, so engagement and feel are always present. Comfort isn't the greatest in these vehicles as their tightly sprung underpinnings and suspension systems make for a notably firm ride quality.
Powertrain: A low to moderate displacement engine is common for the class with, turbocharging becoming more commonplace. High horsepower and torque outputs make for peppy off-the-line acceleration while either a manual or automatic gearbox leads the shifts for involvement or optimal performance, respectively. A rear-wheel-drive system is utilized for traditional race-car dynamics.
Features: The spec sheet is quite extensive for automobiles in this sport/luxury category. The cockpit is very driver-centric, so a modern infotainment touchscreen can be expected with a decent sound system, too. Creature comforts are plentiful and there is a host of sport-inspired instrumentation and technologies all aimed at complementing the driving experience.
Toyota Coupe Models
This automaker has two derivatives in this segment, and they face off against the likes of the Mazda MX-5 Miata, Nissan GT-R, and BMW Z4 Roadster.
86: This affordable compact cruiser is more of a style icon than a track day hero. It's equipped with a sedate 2.0-liter flat-four engine and either a manual or automatic gearbox with six shift ratios. All three trims are stock RWD.
GR Supra: Under the hood of this speed demon is either a 2.0-liter turbo-four or a 3.0L turbo-six, both of which come paired to an eight-speed automatic transmission. There are four trims in the lineup, all of which are guided by the rear wheels. The upper-tier versions offer a head-up display, heated, leather-upholstered seats, and Brembo four-piston front brakes.
Pricing of New Toyota Coupe Cars
| Model | Power | Engine | Base Price |
| --- | --- | --- | --- |
| Toyota GR86 | 228 hp | 2.4L Flat 4 Gas | $28,400 |
| Toyota Camry Solara Coupe | 155 hp | 2.4L Inline-4 Gas | $20,180 |
| Toyota GR Supra | 255 hp | 2.0L Turbo Inline-4 Gas | $44,040 |
What to Consider Before Buying
While there are certainly some good reasons to pick up one of these classy speedsters, there are drawbacks, too.
Pros
Phenomenal outright performance and handling dynamics
Eye-catching aesthetics and sporty, modern interiors
Latest models carry a relatively affordable price list
Cons
In-cabin passenger room is on the cramped side
Lacks the practicality of a traditional sedan or SUV
Not much in the way of standard features
FAQs
What is the fastest Toyota coupe model?
With a 0 to 60 mph sprint time of just 3.9 seconds, the GR Supra, with the 3.0-liter turbo straight-six, is the fastest 2-door Toyota coupe for sale in the USA.
How much does a new Toyota coupe cost?
The 2020 '86' carries a starting MSRP of around $27,000 and the base edition of the all-new 2021 GR Supra is slapped with a sticker price of $40k.